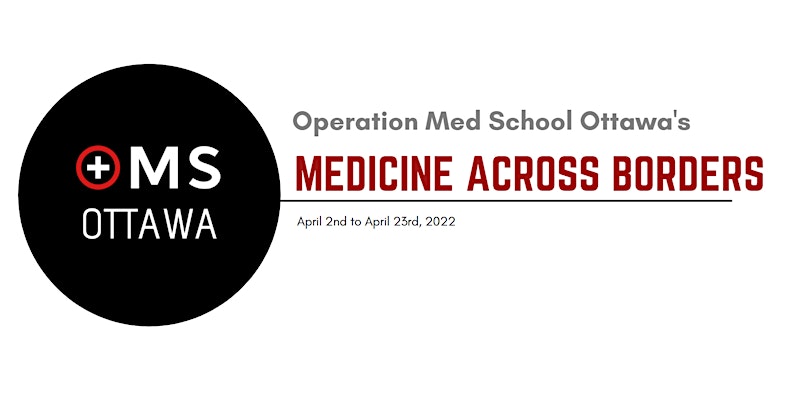 Welcome to the Doctors Across Borders!
This year, OMS Ottawa is hosting their annual conference online, and we have many exciting events planned for you so you can travel the world of medicine from the comfort of your own home! On every Saturday of April, we will be hosting conferences that will provide great insight, knowledge, and advice for aspiring health care workers like yourself.
You will get to hear from international doctors and medical students who will share their experiences, interests and advice. You will also get to participate in an interactive workshop. With a focus on international medicine, this year's conference will feature 4 events throughout the month of April.
Here are all of the amazing events we have planned:
April 2nd, 2022 from 3:00-4:00 PM EST- Keynote Speakers
Starring two keynote speakers, attendees get an inside look at the impact COVID-19 has had on the medical field.
April 9th, 2022 from 3:00-4:30 PM EST- Medical Panel
This event features three panellists from diverse specialties and countries as well as an open Q&A to answer questions about the medical and health science fields.
April 16th, 2022 from 3:00-4:15 PM EST- Speed Dating
Presenting medical students from a variety of medical backgrounds and countries, this event allows for personal conversations and provides insight about the pathways to becoming a doctor.
April 23rd, 2022 from 3:00-4:00 PM EST- Workshop
This workshop includes case studies, discussions, and problem-solving activities. It is also an excellent opportunity to network with professionals and like-minded peers.
Led by MDconsultants
There are TWO ticket options for this conference, which are both FREE:
FULL PASS - You will be granted access to all 4 events
INDIVIDUAL EVENT PASSES - You are able to choose which specific events you want to attend.
If you have any questions, please contact ottawa@operationmedschool.com
See you there!